Amarone wines have skyrocketed in popularity in recent years, with wine connoisseurs swooning over their full-bodied flavor and distinct taste. If you're new to Amarone or looking to expand your wine repertoire, we'll go over what makes Amarone unique, as well as some of our favorite labels that experienced wine drinkers are raving about!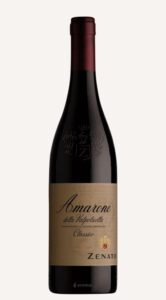 Amarone wine is an Italian red wine made from a blend of Corvina, Rondinella, and Molinara grapes grown in the Valpolicella region of northern Italy. It is made by drying grapes on racks for three to four months to concentrate their flavor and aroma. This process gives Amarone wines a distinct flavor and makes it one of the most expensive wines from the Veneto region, rivaled only by its geographically adjacent neighbor Recioto della Valpolicella. While some Amarones are aged traditionally, oaking them with wood adds complexity to the nose and palate, making it ideal for pairing with roast meats like brisket or steak. Amarone has a richness unlike any other Italian wine—truly it's robust and flavorful!
Amarone wine has grown in popularity over the last decade, and its history is intriguing. Amarone wine originated in Valpolicella, Italy, as a dessert wine in the 16th century. It evolved from a dessert wine to a table wine enjoyed with various meals such as red meats and cheeses. In fact, some experts believe that Venetians were drinking this type of red table wine centuries before Amarone was given its name in the 1930s. This distinct style of Italian winemaking involves air-drying freshly harvested Corvina and Rondinella grapes to concentrate their flavor; combining the resulting grape must with other varietals gives Amarone its bold flavor with hints of spice and dried fruits. That's why so many people enjoy a glass of Amarone with dinner!
Amarone della Valpolicella is a strong and full-bodied wine from Italy. But how does one choose a good Amarone? We sought out EXECUTIVE CHEF and Restaurant owner Alberto Varetto, owner of Albertos on 5th who lives by the adage that "At our restaurant, we welcome each guest into the warmth of a traditional Italian grandmother's kitchen. From crisp crusty breads to delightful Piedmont cake, every dish is lovingly prepared to perfection by hand with only homemade and fresh ingredients. You won't find any machines here, just genuinely delicious home-cooked meals that will leave you wanting more! With the same food philosophy, he turns to wine, looking for a wine that develops flavor by drying grapes on mats before they are fermented and aged. This is labeled as 'Classico' Amarone or, in some cases, 'Amarone Riserva'. Second, Amarone requires at least two years of careful aging in oak barrels to develop complexity in taste; it should have concentrated aromas of dried fruit and spices on the nose. Finally, if Amarone is certified DOCG – Denominazione di Origine Controllata e Garantita – you know it has been tasted and officially recognized as authentic Valpolicella Valley Amarone. He recommends stopping by the next time you're on 5th Avenue South and sipping a  Zenato Amarone della Valpolicella.
Amarone wine is truly a special treat. It's a complex and intriguing full-bodied red wine with elegant flavors of dried fruit and spices, making it ideal for both savory and sweet dishes. When serving Amarone, make an impression with large Burgundy glasses that allow for maximum aroma development. When it comes to food pairings with Amarone, think bold dishes like grilled Portobello mushrooms or mushroom risotto that can handle the intense flavor profile of this unique variety of wine. Try chocolate desserts like truffles or chocolate torte for a twist on traditional pairings – Amarone serves as the perfect palate cleanser between rich bites. Finally, regardless of your preferences, experimenting with different food and Amarone pairings promises to be an enjoyable journey into delightfully delicious exploration.